I read something interesting yesterday about what it means to "be in a state." I've long used the "driven through it" or "as long as I stepped foot in it" analogy. In an email newsletter I get, the writer Will Leitch disagreed.
Here are the activities Leitch counts towards "being in a state":
Attending a sporting event or concert.

Having a dinner with an old friend (as opposed to eating by yourself on a drive and then leaving).

Visiting some sort of attraction, whether it's a historical landmark, an amusement park or the biggest ball of twine in Minnesota. If you go do it, even if you're just on a drive and stopping for a couple of hours, does count.
I've long counted some states that I've just driven through. So I'm going reevaluate and see if I can remember what I did in most of those states. Blue means I have been to the state, grey means I have not. (I think that's the color grey.)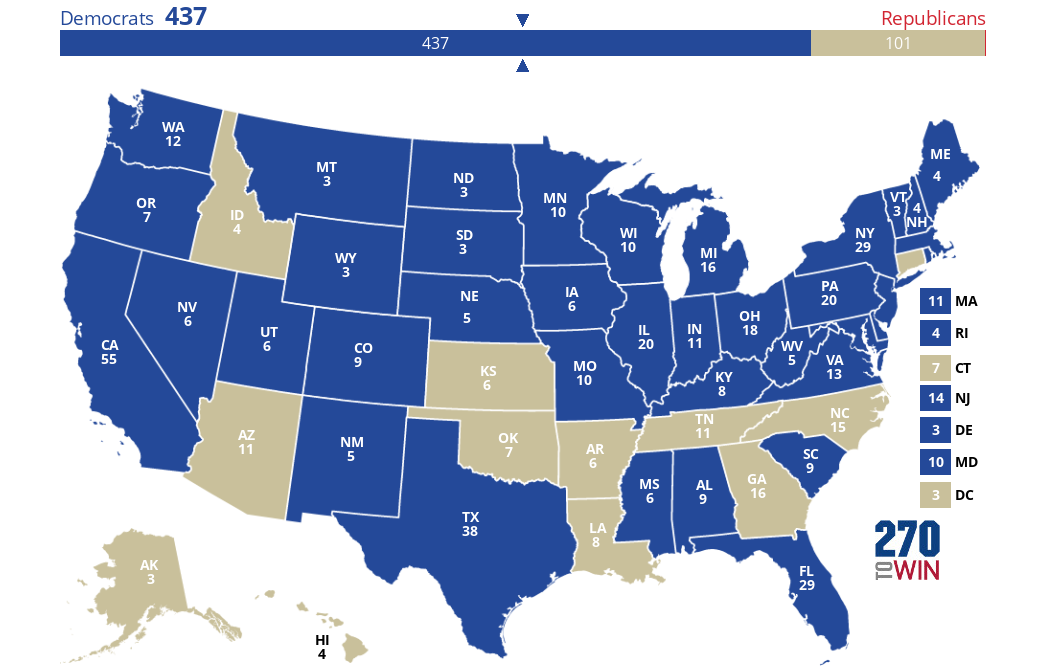 Click the map to create your own at 270toWin.com
Ok, so first, I've never been to either Alaska or Hawaii, so those are two easy ones to cut out.
California- Visited LA numerous times, went to San Diego, was in Northern California for a wedding.
Oregon- Family vacation on the coast. Can't exactly remember which town, but would like to get to Portland
Washington- Family trip to Seattle. Also went camping with a buddy in Olympic National park.
Idaho/Montana/Wyoming- I've never stepped foot in in Idaho. I took a nice trip to Glacier National Park, and I have visited Yellowstone National Park. All good times.
Nevada- Trip to Vegas with family. I was a teenager, so didn't have that much fun. Also went backpacking with a buddy in the Ruby Mountains. Northeastern Nevada does not have much going on in a human sense.
Utah/New Mexico/Arizona- I first thought I just hit Arizona and Utah due to a family four corners trip. Now that I think about it, I've been to Salt Lake City (I don't remember why.) But I haven't done the same for Arizona. Weird. I've been to New Mexico a handful of times to visit an aunt that lives in Albuquerque. I also went to Philmont Scout Ranch.
Colorado- I went to Colorado three times last year. My last trip was to the Boulder area for a friend's wedding.
North Dakota/South Dakota- I stopped at Theodore Roosevelt National Park in North Dakota. I made a few trips to Sioux Falls this past year. We also did a family vacation to the Badlands earlier. I also remember a scouting backpacking trip in the area as well.
Nebraska- Since two of my good friends live down there, I've been to Lincoln a few times.
Arkansas/Kansas/Oklahoma- I think we drove through these states for a family trip to Texas. I used to count them on my list, but I can't remember if we did anything of significance in either states.
Texas- We visited Dallas on a family trip when I was in second grade. I also went to Houston for the quiz bowl national championships.
OK, round two coming up in the next blog post.